Hoa Lo Prison Relic - a peaceful bridge
In the morning of 17/1/2017, the meeting "A journey to the past" and receipt from the family late Navy Commander Walter Eugene Wilber was celebrated at Hoa Lo Prison Relic.
During Viet Nam war (1964 – 1973), a part of Hoa Lo Prson was used to keep POWs. At there, "Ha Noi Hilton" where is the place they have more knowledge about the war and the human policy of the nation which loves peace.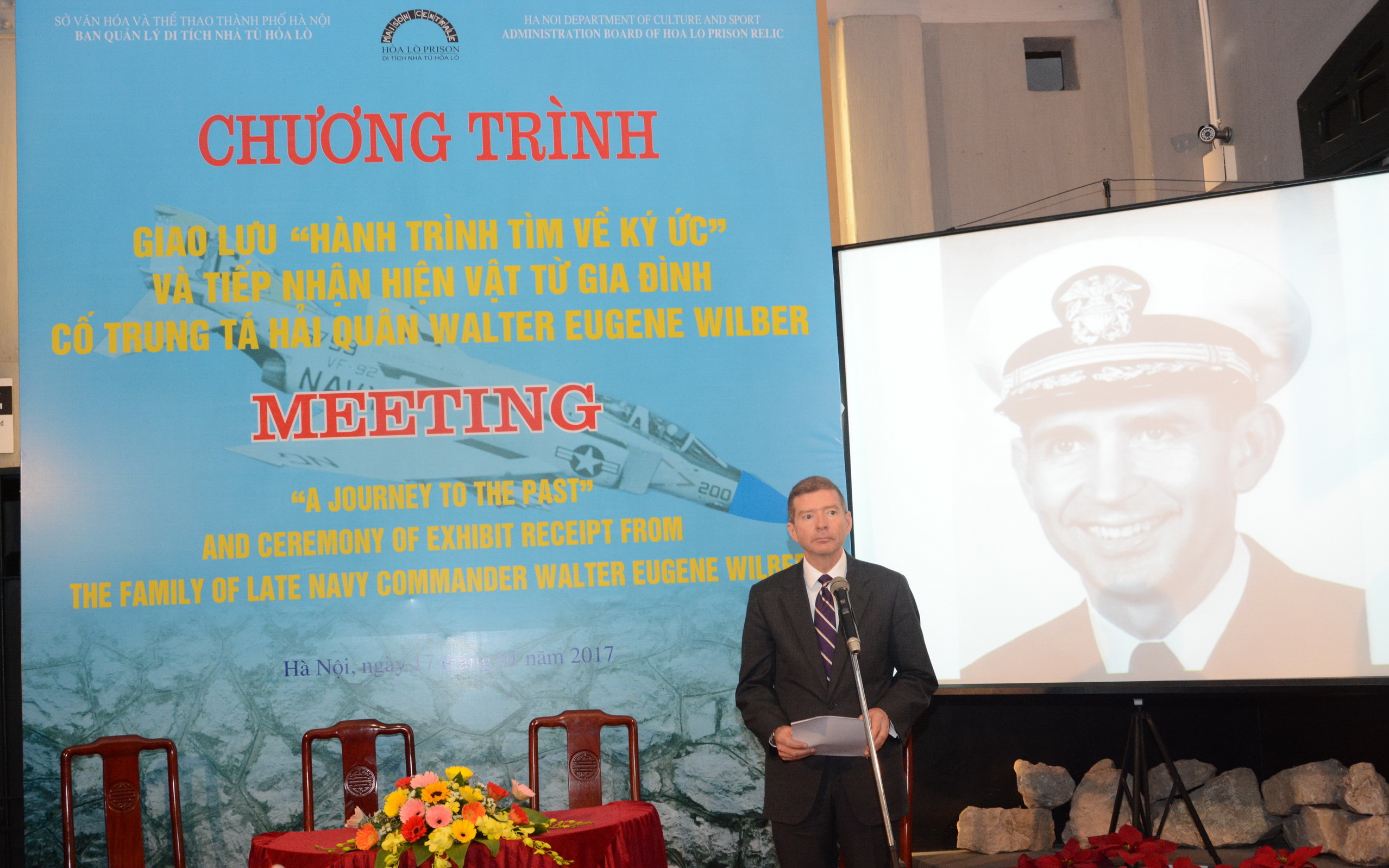 Mr.
Thomas Eugene Wilber delivers a speech at the meeting
The meeting was hold warmly and cozily in cell D, where visiting guests could talk directly to two witnesses: Senior Colonel Tran Trong Duyet - former chief of the camp for detaining American pilot prisoners in Hoa Lo Prison, Ha Noi (1970 – 1973), Mr. Chu Chi Thanh - journalist, photographer, former journalist of Viet Nam News Agency in the resistance against US fighting.
The meeting with
two witnesses: Colonel Tran Trong Duyet and Mr. Chu Chi Thanh
They told many stories of living condition of POWs in Hoa Lo prison, the humanitarian policy of Viet Nam government and how it was applied for US pilots, as well as many memories of Walter Eugene Wilber: he and some POWs could meet with a famous actress, Ms. Jane Fonda, who joined in many movements against the Viet Nam war, and how he taught Viet Nam guards in Hoa Lo Prison.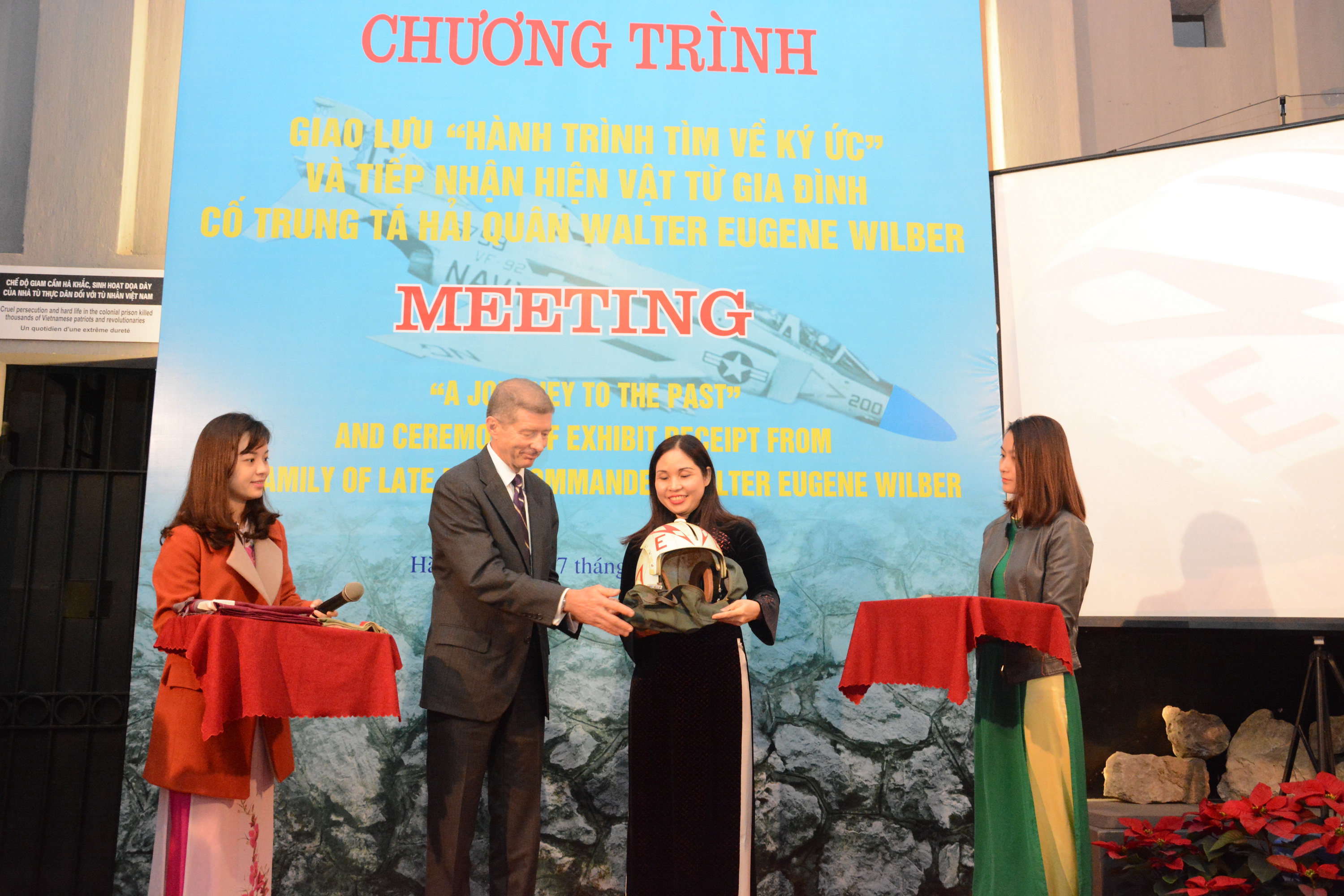 Dr. Nguyen Thi Bich Thuy Director of
Administration Board Hoa Lo Prison Relic
receipt items
from Mr.
Thomas Eugene Wilber
After the meeting, the ceremony of exhibit of receipt from the family of late Navy Captain Walter Eugene Wilber was held. At that time, his 12th to come back Viet Nam, Thomas Eugene Wilber gave Administration Board at Hoa Lo Prison Historical Relic six of his father's objects which he had kept until he passed away: the helmet, equipped by US Navy to Captain Wilber; a cup and 2 clothes, equipped by the Viet Nam State to US pilot Walter Eugene Wilber for using in Hoa Lo prison; letter, from pilot Walter Eugene Wilber, wrote and sent to family in US during imprisoned period, Hoa Lo prison, Ha Noi, 22/01/1970; a match box, given Viet Nam State to US pilot Walter Eugene Wilber before releasing on 12/02/1973.
Pham Thi Hoang My - Propaganda and Display Department
Photo: Nguyen Anh Tuan
Translated by Vu Thuy Ha
Ha Noi attractions reopen for tourists
HÀ NỘI – Historic relics and tourist attractions in Hà Nội reopened for tourists today after closing for sterilisation to prevent from the spread of the deadly novel coronavirus.
ANNOUNCEMENT
Reopening After fully prepared for the prevention of 2019-nCoV acute respiratory disease, The Administration Board of Hoa Lo Prison Relic will continue to welcome all visitors. Starting from 8 a.m...