POWs's stories on newspapers
Visitors are interested in US pilot's exhibition in Hoa Lo Prison Relic and it's special with foreigners. However, many people think that no enough information, its one direction or no good treatment to US pilots. After being released, Walter Eugene Wilber, a US pilot, whose answer could help to explain all of that.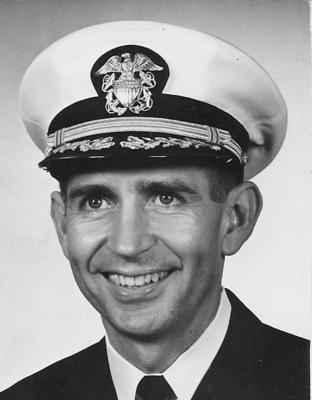 Walter Eugene Wilber, US pilot
US pilot Walter Eugene Wilber was born on 17/01/1930, in Millerton, Pennsylvania. In 4/1968, Walter is a Navy Commander, in Diamond blacks VF 102 battle fleet was moved to Asia battlefield.
On 16th June, 1968 Walter and partner Bernard Francis Rupinsk flied F4J - Phantom II bombing Northern Viet Nam. F4J - Phantom was shot at Do Luong (Nghe An). Walter parachuted successfully and fell down to the field in Thanh Tien commune, Thanh Chuong District, Nghe An province. The pilot partner was died. Three local people (Bui Bac Van, Nguyen Van Thu, Nguyen Van Moi) caught him to take to Thanh Chuong commune squad. And then, he was captured in Hoa Lo Prison (Ha Noi).
By helping of Head of camp, they could talk to national journalist. 12/1970, in an interview: "We have 3 meals everyday and could have sunbath, do exercise, tidy-up and have breakfast. We often play volleyball and some sports in the morning, and then have lunch and sure that we must withdraw from the battlefield to end this war. After that, Viet Nam can solve all problems…" - Walter Eugene Wilber answered Micheal Maclear, a journalist from Canada.
After Paris Agreement signed on 27th January 1973 all of US pilots who were hold in Hoa Lo prison were released to US by Vietnamese Government. Walter Eugene Wilber was released on 12th, February 1973.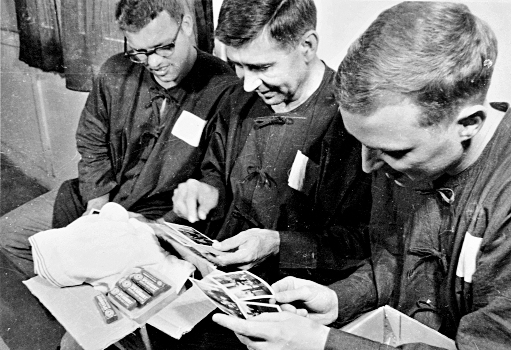 Walter Eugene Wilber (between) captured in Hoa Lo prison, Ha Noi
received photos and personal effects from the relatives.
The period time of being imprisoned was seniority in army. Therefore, after coming back US, he was promoted to Captain. He was kept in Hoa Lo prison in 4 years and a half that was written on many US newspapers: Star Gazette, Philadelphia daily news, Evening Times, The Leader, The Daily Review…
He came back US homeland, "the anti-war contained me more than 4 years in Northern. No bad treatment during I was a prisoner, I had had a stroke and liver cancer." - Walter Eugene Wilber said in the interview of Star Gazette news.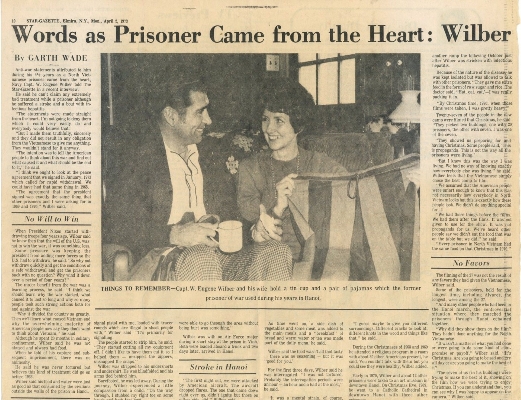 "Words as Prisoner came from the heart" on Star Gazette, 2nd April 1973
He had a comfortable life in the room such as a waste-bucket, a cup, a toothbrush, soap and bath towel. The suit include of 2 line a coat, 2 long clothes, an undershirt and 3 blankets…Two meals at 10AM and 3PM everyday. It had a big bowl of soup with vegetables and meat, eating with some bread. Main meal had a dish of vegetable and some meat. There are some breads, warm water or tin-pot of tea for breakfast daily… After 3 days he under arrested, Wilber told no tortured, he was interrogated which lasted one hour to 1 hour and a half.
From 1968 - 1969, he was at the religion performance with 30 American others. He couldn't speak to them but he found they were well.
Early 1970, Wilber and 12 others inmates were taken to Ha Noi Art Museum. On Christmas Day in 1969, he went to the Cathedral with three inmates. They went through the crowded, seeing all of them in Christmas Eve and returned the prison.
Except Sunday, they could have a bath. They used the water from the well. They could shave oneself twice to three times a week, wash clothes everyday… (Excerpted from "Words as Prisoner came from the heart" on Star Gazette, on 2nd April 1973).
People rumored that POWs in Viet Nam were tortured, beat, had merciless treatment, but in the interview of US nation telecast, he insisted, "I'm not tortured or have merciless as we imaged before." Walter Eugene Wilber thought that they needed to think about this war and asked why it lasted long that affected to generations. The awareness of American about Viet Nam War was changed by it and effort of many people. Against war wave was rising and in succeed.
The answer of US pilot - Walter Eugene Wilber showed that during the war, although the life was miserable, Vietnamese government applied humane policy and gave them the best living condition.
Nguyen Thi Sam - Searching and Collecting Department
Photos: Nguyen Anh Tuan
Translated: Vu Thuy Ha
Ha Noi attractions reopen for tourists
HÀ NỘI – Historic relics and tourist attractions in Hà Nội reopened for tourists today after closing for sterilisation to prevent from the spread of the deadly novel coronavirus.
ANNOUNCEMENT
Reopening After fully prepared for the prevention of 2019-nCoV acute respiratory disease, The Administration Board of Hoa Lo Prison Relic will continue to welcome all visitors. Starting from 8 a.m...