Emotion of the young visitor
"As the French youth, I learnt history at school but I have never known what the French did in Vietnam" - sharing by Maud-Alexia Faivre, student of Faculty of Journalism, Journalism and Communication school (IICP - Paris).
During my working time at Hoa Lo Prison, meeting many Vietnamese and international visitors, receiving the answer: This is not our first time visiting "Maison Centreal", is not strange. But when I meet a French girl return to Hoa Lo Prison for several times within a week, made me fell strange and question: What is she be attracted ?.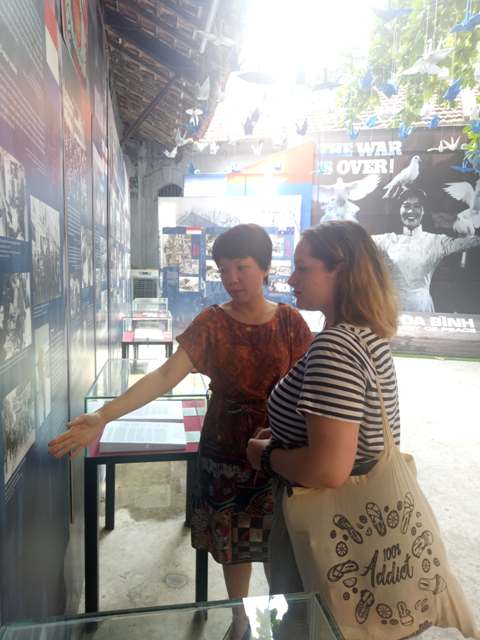 Guiding the content of "Diary of Peace" to Maud-Alexia Faivre,
student of Faculty of Journalism (IICP - Paris)
"She is so tender and mature" is my felling when I first met. She spends 3 months in Vietnam working at The Voice of Vietnam and visiting the famous sightseeing. After visiting "Maison Centrale" immediately she wants to make an article about the desire of peace of Vietnamese, about the stories which the French youths like her which have never known. Sharing with us: "Walking along the cells, I remember Auschwitz Prison in German. I fell admirable whom be jailed here".
At the exhibition "Diary of Peace", seeing many pictures of the French supporting for Vietnamese, she is so surprise. "What is war? What are the consequences of the war? Come to Hoa Lo Prison and watch "Diary of Peace" all you will understand.", she comes to conclusion.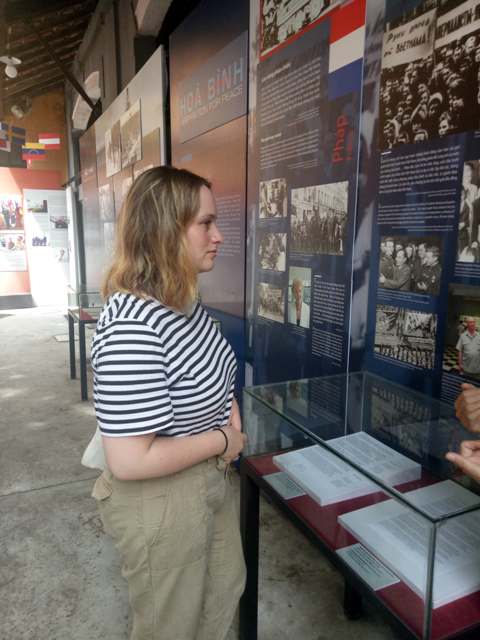 With all her emotion, the future journalist wrote and recorded carefully for her article about the desire of peace of Vietnamese via exhibition "Diary of Peace". This is one of her aim working in Vietnam. Wish for her wish to be political and international journalist will soon come true and hope to see her in Hoa Lo Prison in the near future.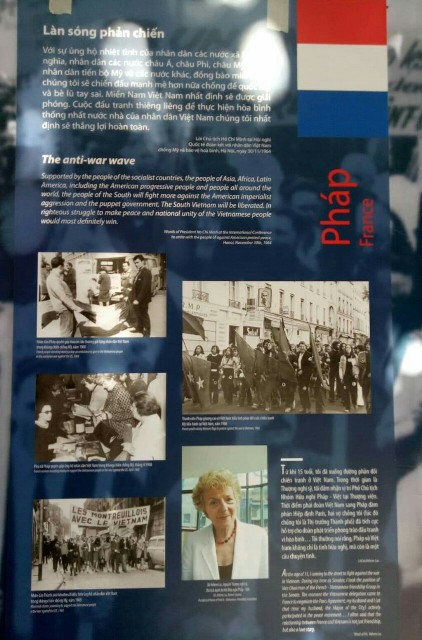 The pictures about the support of French and against the war in Vietnam in exhibition "Diary of Peace"
Hoang Thuy Hanh - Education and Communication department
Photos: Lai Minh Thu
Ha Noi attractions reopen for tourists
HÀ NỘI – Historic relics and tourist attractions in Hà Nội reopened for tourists today after closing for sterilisation to prevent from the spread of the deadly novel coronavirus.
ANNOUNCEMENT
Reopening After fully prepared for the prevention of 2019-nCoV acute respiratory disease, The Administration Board of Hoa Lo Prison Relic will continue to welcome all visitors. Starting from 8 a.m...