Do you know... Diary of Peace at Hoa Lo Prison
Hoa Lo Prison has a long history in the city of Hanoi. A detention centre controlled by the French during the colonial period, then a prison for American pilots captured during the Vietnam War, this historic site, now a museum, attracts many visitors.
To commemorate the 55th anniversary of the Gulf of Tonkin event and the 20th anniversary of UNESCO's awarding Hanoi the title of "City for Peace", the "Diary of Peace" exhibition takes place in an inner courtyard of the prison. Ms. Lai Minh Thi Thu, Vice Chairwoman of the Research and Archives Department of Hoa Lo Prison Administration and member of the Exhibition Commission, explains why it is taking place here:
It is a "legacy" of war that shows its atrocities and the importance of peace. The Central House is a gateway that connects Vietnam with the world. We hope that many foreign visitors will come to learn about our painful past. Generations of Vietnamese still suffer from the consequences of war. We want to call on the whole world to act together to create a peaceful world.
A visit that is followed in the shade of the old central house. Throughout this exhibition, texts and photos recounting the evolution of the war. Testimonies too, former soldiers among others. A dive into a still recent trauma for Vietnam, notably with images of the My Lai massacre in 1968. But despite these still painful memories for the country, this exhibition wants to show how much Vietnamese people yearn for peace and want to open a new page in their history. If the exhibition was inaugurated on July 2 and will last until the end of the year.
Ms. Lai Thi Minh Thu, is ready to extend it if the public so wishes: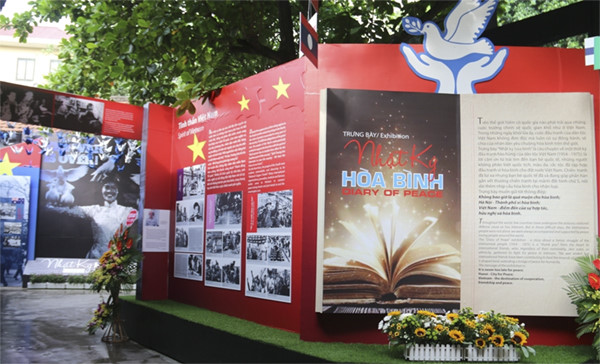 It will be a great honour for us and we are ready to do so. There are many foreign visitors who come and find their friends at the exhibition. Some have participated in peace movements. They told their friends about this exhibition, who were also opposed to the Vietnam War. They were very moved to know that in Vietnam, we are very grateful for their action. Through movements opposing the Vietnam War, we honour the olidarity and friendship of progressive peoples, including Americans in favour of the Vietnamese. This is a great encouragement for our anti- American resistance at the time.
Supporters of the exhibition include the Union of Friendship Associations and its members, including the Vietnam - USA Friendship Association, the Peace Commission, as well as many Vietnamese veterans. But not that:
We received many archives and items sent from all over the world. Many international organizations have offered us photos and documents related to their peace movements. Some visitors told us their own stories about the war. We wanted to sincerely thank you for this invaluable support.
Through this exhibition, a sense of gratitude to all peace-loving peoples who supported Vietnam during the war. In 1970, a delegation of American students visited Vietnam. Upon their return, they reported back to their fellow citizens what was happening there. Five years later, this terrible conflict ended.
Written by Maud-Alexia Faivre, student of Faculty of Journalism,
Journalism and Communication school (IICP - Paris).
Ha Noi attractions reopen for tourists
HÀ NỘI – Historic relics and tourist attractions in Hà Nội reopened for tourists today after closing for sterilisation to prevent from the spread of the deadly novel coronavirus.
ANNOUNCEMENT
Reopening After fully prepared for the prevention of 2019-nCoV acute respiratory disease, The Administration Board of Hoa Lo Prison Relic will continue to welcome all visitors. Starting from 8 a.m...