Introductions on Hoa Lo Prison Relic

From the end of 19th century, the French colonialists strongly suppressed the fighting movements of the Vietnamese people. They set the court systems, recruited more policemen and built many more prisons to service their ruling administration in Viet Nam. In 1896, the French built Hoa Lo prison on the land, which was a famous pottery village - Phu Khanh Village, Vinh Xuong, Tho Xuong District in Ha Noi. Hoa Lo was one of the biggest prisons built by the French in Indochina.
From a famous pottery village, the prison was built to intern thousands of Vietnamese patriotic and revolutionary fighters. These prisoners were tortured physically and mentally. The living conditions here were appalling; poor quality food, poor sanitary conditions, many diseases and bad personal hygiene. However, the detained revolutionists still believed in the Communist Party by turning the prison into a revolutionary school where they dispersed the revolutionary causes. Many people successfully escaped from here, coming back to lead the general uprising.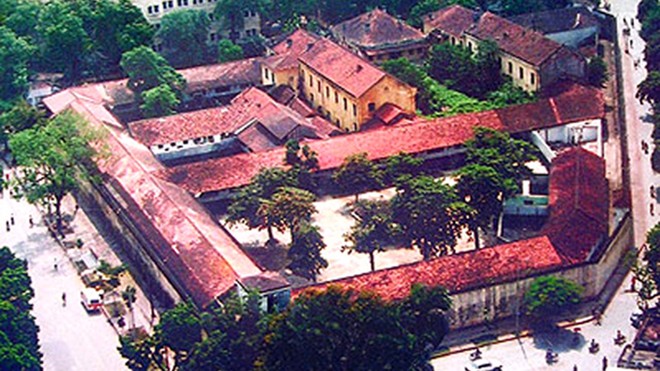 Many patriots, revolution leaders of Vietnam, were captured in Hoa Lo prison, such as: Phan Boi Chau, Luong Van Can, Nguyen Quyen, Ho Tung Mau, Nguyen Luong Bang… and five General Secretaries of Viet Nam Communist Party: Nguyen Văn Cu, Truong Chinh, Le Duan, Nguyen Van Linh và Do Muoi..
In October, 1954, after the north of Vietnam was liberated, the Vietnam Government used Hoa Lo Prison to temporarily imprison regular prisoners.
From 05/8/1964 to 31/3/1973, a part of the prison was used to capture American pilots who were shot down during their bombing raids against North Vietnam. In this period, Hoa Lo was euphemistically called the "Ha Noi Hilton" by the prisoners in detention. "Alumni" of Hoa Lo include Douglas Peter Peterson, who later became the first US Ambassador to Viet Nam, and John McCain, a US Senator.
In 1993, in order to meet the economic development of Ha Noi, the Vietnamese government retained a part of Hoa Lo to transform into a historical relic. This part located in South - East of the prison was preserved, renovated and upgraded. Here, there is a memorial monument in dedication to the Vietnamese patriotic and revolutionary fighters. This is also a "Red Address" for educating Vietnamese people of all strata, especially young generations, on the patriotic and revolutionary traditions of those who sacrificed for the sake of the nation's independence and freedom.