Notification welcome visitors at Hoa Lo Prison Relic
Administration Board of Hoa Lo Prison Relic would like to thank the groups and visitors for your interest and companion.
Hoa Lo Prison - a legacy of the war, has now become an address attracting both domestic and international visitors.
After the separation to prevent Covid - 19, we are pleased to announce: From May 14th, 2020 (Thursday), Hoa Lo Prison Relic is reopened to welcome visitors. Opening time: from 8 am to 5:30 pm (all days of the week, including holidays, New Year).
* In order to welcome and serve the customers, we perform the following tasks:
- Cleaning, disinfecting the entire inside and outside the Relic.
- Regular cleaning with medical alcohol on the contact surfaces in accordance with the regulations of Ministry of Health.
- The staffs (ticket seller, ticket controller, receptionist) keep a safe distance when contacting guests.
- Arranging tourist guides to keep a safe distance in all tourist areas.
* We hope that you join hands to implement measures to prevent epidemics before visiting:
- Check body temperature, wear a mask, wash your hands with bactericidal solution.
- Follow the instructions of the service staff throughout the visit.
- Guests visiting in groups, please do not exceed the number of 30 people / 1 group.
Warmly welcome. Hopefully Hoa Lo Prison Relic continues to be a safe, attractive and friendly place for you!
ADMINISTRATION BOARD OF HOA LO PRISON RELIC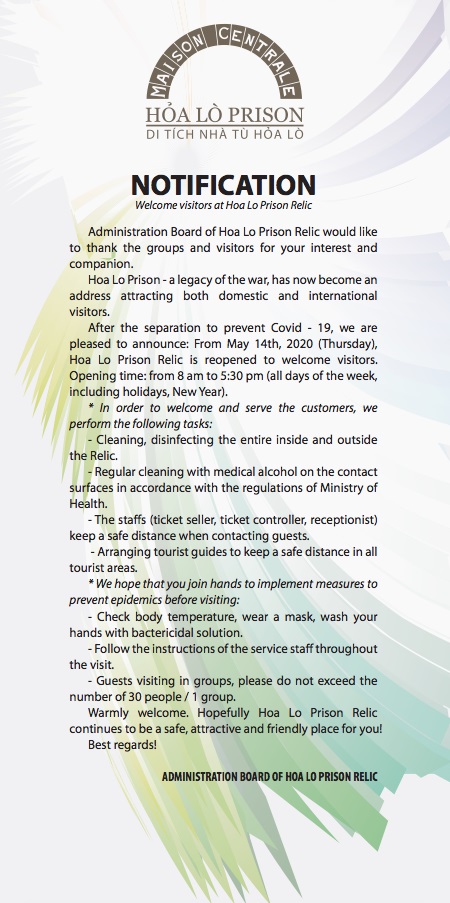 Ha Noi attractions reopen for tourists
HÀ NỘI – Historic relics and tourist attractions in Hà Nội reopened for tourists today after closing for sterilisation to prevent from the spread of the deadly novel coronavirus.
ANNOUNCEMENT
Reopening After fully prepared for the prevention of 2019-nCoV acute respiratory disease, The Administration Board of Hoa Lo Prison Relic will continue to welcome all visitors. Starting from 8 a.m...
ANNOUNCEMENT
Temporary closure of the Hoa Lo Prison relic to visitors due to 2019-nCoV acute respiratory disease: STARTING FROM 3P.M (TUESDAY) FEBRUARY 4TH, 2020.